Newsletter 7 (February 2010)
---

Invitation: Duo Brikcius - 2 Cellos Tour in Krakow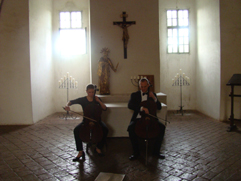 As part of Polish tour you are invited to
"
Duo Brikcius - 2 Cellos Tour
" concert of
two Czech cellists, sister and brother Anna Brikciusová and František Brikcius. Concert will be held on Wednesday 3rd February 2010, 7pm, at the
Galicia Jewish Museum (ul. Dajwór 18, 31-052, Krakow, Poland).
Duo Brikcius will feature in Polish premiere Duo for Violin and Cello (1939-40) by Jewish - Terezín composer Gideon Klein and Fantasie IV (2008) by Czech composer and organist Irena Kosíková (father of Irena Kosíková, philosopher Karel Kosík, has been prisoned in Terezín during WWII). You will hear music of L. Boccherini, W. A. Mozart, G. Rossini, P. Hindemith, G. Klein and I. Kosíková as well.
DUO BRIKCIUS - 2 CELLOS TOUR
3rd February 2010, 7pm, Galicia Jewish Museum (ul. Dajwór 18, 31-052, Krakow, Poland)
ANNA BRIKCIUSOVÁ
- Cello (
Duo Brikcius
)
FRANTIŠEK BRIKCIUS
- Cello (
Duo Brikcius
)
---
Competition: win 1 x signed poster "Duo Brikcius - 2 Cellos Tour"
When was public meeting with Tonim
R
ü
ttimann in Prague as part of project
"
Bridgebuilder - Toni el Suizo
"?
26th March 2009

27th April 2009
28th May 2009
Contest is over, drawn winner is:
P. O. from Brno
.
---
Partner of the Month: Tiskap

Tiskárna
TISKAP
Na Louži 2a
101 00 Praha 10 - Vršovice
Czech Republic
Printing office Tiskap is partner of projects "
Prague - Brno: 6 Contemporary Composers for Cello solo in the interpretation of František Brikcius
", "
Tartini's L'Arte dell'Arco in the Interpretation of František Brikcius
", "
7 Candles
", "
In the memory of Karel Kosík I. & II.
", "
Weinberger Tour
", "
In the memory of Růžena Grebeníčková I. & II.
", "
Duo Brikcius - 2 Cellos Tour
", "
Bridgebuilder - Toni el Suizo
", "
MAKANNA
", "
eSACHERe
", "
Brikciusová Na Prádle
", "
Festival Brikcius
" & "
Brikciusová Na Prádle - My zemí nejdeme
".
---
Meet ... composer LUCIANO BERIO

Luciano Berio
(*24. 10. 1925 - †27.5. 2003)
Italian composer Luciano Berio was born on 24th October 1925 in Oneglia, Italy into a family of musicians (his father Ernesto and his grandfather Adolfo were organists and composers). His career as pianist was interrupted by injury of his right hand on the first day he was conscripted into the army during World War II. He stayed in military hospital, before he fled to fight in resistance. After war he studied composition at the Milan Conservatory with Giulio Cesare Paribeni and Giorgio Federico Ghedini until 1951, when Berio went to the United States to study serial methods with Luigi Dallapiccola at Tanglewood. In 1950 he met young American student, singer Cathy Berberian who he married shortly after his graduation and they divorced in 1964. They had daughter, Christina (*1953).

After his trip to Tanglewood, Berio returned to Milano where he took on work for the Italian radio and television network (RAI). Work for RAI brought him to close contact and lasting friendship with Umberto Eco. In 1955, thanks to his interest in electronic music, Berio is co-founding with Bruno Maderna an electronic music studio in Milan called Studio di Fonologia. Many composers such as Henri Pousseur and John Cage worked there. He also produced an electronic music periodical, Incontri Musicali. Darmstadt summer schools (Internationale Ferienkurse für Neue Musik), where he meets Pierre Boulez, Karlheinz Stockhausen, György Ligeti and Mauricio Kagel.

Berio is posted as Composer in residence in Tanglewood in 1960. Two years later is invited by Darius Milhaud to substitute for Milhaud at Mills College, Oakland, California. From 1965 till 1971 he teaches at the Juilliard School of Music. He is founding the Juilliard Ensemble, which was promoting contemporary music by performing. His students were Steve Reich, Luca Francesconi Louis Andriessen, Phil Lesh and others. In 1965 he is again married to philosopher Susan Oyama, who he divorced in 1972. They had daughter Marina (*1966) and son Stefano (*1968).

He is returning to Italy in 1972 and buying land and buildings at Radicondoli. Restoration, vineyards and fruit trees planting took over next two years. In 1975 he is moving in. In 1974-1980 is director of IRCAM electro-acoustic division in Paris. Collaboration with Pierre Boulez. He is married for the third time with Israeli musicologist Talia Pecker in 1977. Two sons were born from the marriage, Daniel (*1978) and Jonathan (*1980).

Berio is opening Tempo Reale in Florence in 1987.

Luciano Berio was awarded many honours and prizes. Honorary Doctorate from City University, London (1980), In 1988 he was made an Honorary Member of the Royal Academy of Music in London, prestigious Siemens-Musikpreis (1989), Norton Professor of Poetry at Harvard University (1993-1994), Distinguished Composer in Residence at Harvard University (1994-2000), Honorary Doctorate from University of Siena (1995), Praemium Imperiale conferred by the Japan Art Association (1996), president of Accademia Nazionale di Santa Cecilia in Rome (2000).

Luciano Berio is dying 27th May 2003 in a hospital in Rome.

Together with another 11 composers - friends (C. Beck, L. Berio, P. Boulez, B. Britten, H. Dutilleux, W. Fortner, A. Ginastera, C. Halffter, H. W. Henze, H. Holliger, K. Huber a W. Lutoslawski) of Swiss composer and maecenas Paul Sacher (1906 - 1999), he was asked by Russian cellist Mstislav Rostropovich on the occasion of Sacher's 70th birthday to write composition for cello solo with use of notes creating his name (eS, A, C, H, E, Re). Luciano Berio composed piece LES MOTS SONT ALLES. Compositions were partially presented in Zurich on 2nd May 1976. Whole "
eSACHERe
" project will be (for the first time in complete performance) performed by Czech Cellist František Brikcius in May 2011 in Prague.
For more about Luciano Berio visit
http://www.Brikcius.com
,
http://www.LucianoBerio.org
and
http://En.Wikipedia.org/Wiki/Luciano_Berio
.
---
Call for ...
MySpace.com/Brikcius
---